Alia Bhatt's National Awards Triumph: A Bridal Saree to Remember
In a star-studded event celebrating the most outstanding performances in Indian cinema, Alia Bhatt's presence shone even brighter as she graced the National Awards stage. The talented actress, accompanied by her partner Ranbir Kapoor, created quite the stir as she received the Best Actress award. Yet, what truly made Alia's appearance remarkable was her unconventional choice of attire – she wore her wedding saree to this prestigious occasion. This article takes an in-depth look at Alia Bhatt's remarkable choice, decoding the symbolism and significance of her attire and the fashion statement she made on this memorable night.
View this post on Instagram
The Glamorous National Awards Night:
The National Film Awards are synonymous with elegance and glamour. Distinguished figures from the Indian film industry gather to honor the exceptional work showcased on the silver screen. Alia Bhatt, one of Bollywood's brightest stars, added an unexpected twist to this celebrated event.
View this post on Instagram
Alia's Bridal Saree: A Bold Fashion Statement:
Rather than opting for a conventional red carpet gown, Alia chose to wear the same bridal saree she adorned during her wedding with Ranbir Kapoor. This choice was not only bold but also brimming with significance. It symbolized the harmony between tradition and modernity and spoke volumes about Alia's personal values.
The Power of Tradition:
Sarees have a profound cultural significance in India. They encapsulate grace, tradition, and the essence of womanhood. By wearing her wedding saree to the National Awards, Alia celebrated these values and emphasized the importance of staying connected to one's cultural roots while navigating the contemporary world.
Alia's Message of Sustainability:
In a world where fast fashion dominates and wearing an outfit just once is considered the norm, Alia's choice sent a powerful message about sustainability. Her decision to re-wear her wedding saree highlighted the concept of 'reuse and recycle' in fashion, encouraging people to be more environmentally conscious.
The Effortless Elegance of Alia Bhatt:
Alia Bhatt has carved her niche in the film industry not just as an exceptional actress but also as a fashion icon. Her choice to wear her wedding saree once again displayed her exceptional style and confidence. This article explores how Alia Bhatt's individuality and grace shone through on the National Awards stage.
Reactions and Responses:
Unsurprisingly, Alia's unconventional choice sparked conversations among fashion enthusiasts, critics, and fans. The power of her statement reached far and wide, with many applauding her for challenging norms and stereotypes.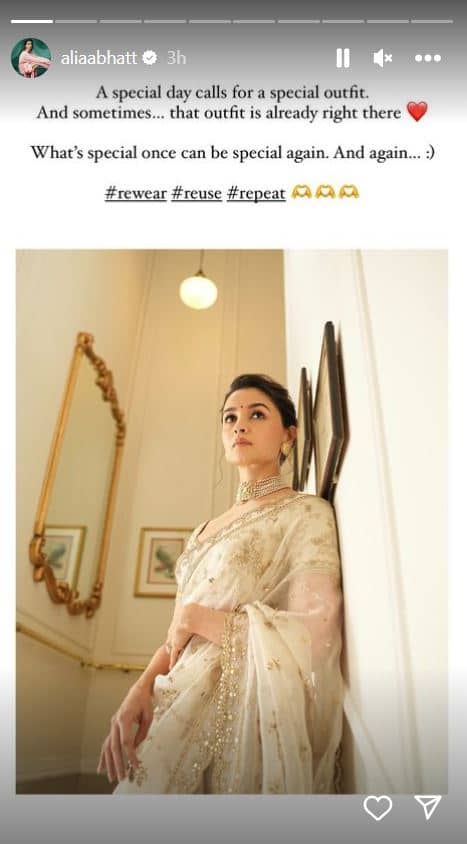 A Glimpse into Alia's Interview:
We offer an exclusive peek into Alia Bhatt's interview at the National Awards. She discusses her choice of attire, her feelings about the event, and her role in the cinematic world.
The Broader Impact:
Beyond the realm of fashion, this article delves into the broader impact Alia Bhatt's choice might have on fashion trends and the society as a whole. Her decision reflects a broader shift towards more meaningful and sustainable choices.
In Conclusion:
Alia Bhatt's decision to re-wear her wedding saree at the National Awards was a fashion choice that transcended clothing. It celebrated cultural values, sustainability, and personal expression. In doing so, it made a lasting mark on the world of fashion and society at large.
Other Related Articles:
Alia Bhatt's Vacation Picture with Ranbir Kapoor Holds a Rocky Aur Rani Kii Prem Kahaani Surprise
Alia Bhatt and Ranveer Singh's Fun Reel on "What Jhumka" with a Special Cameo by Karan Johar