Karan Deol and Drisha Acharya Tie the Knot: First Glimpse of the Newlywed Couple's Wedding Bliss
Love is in the air as Bollywood actor Karan Deol and his long-time sweetheart Drisha Acharya have finally exchanged vows in a private ceremony attended by close family and friends.
The wedding ceremony took place at a picturesque destination, adorned with breathtaking decorations and an aura of love. Karan Deol, son of renowned actor Sunny Deol, looked dapper in a traditional attire, while the radiant bride, Drisha Acharya, donned a stunning bridal ensemble that accentuated her beauty.
The intimate affair was filled with heartfelt emotions and joyous celebrations. Family members and close friends gathered to witness the union of two souls in a ceremony that perfectly blended tradition and modernity. The wedding festivities were a true reflection of the couple's personalities, as they incorporated elements that held sentimental value to them.
The first pictures of Karan and Drisha as a married couple have taken social media by storm. The newlyweds are seen beaming with happiness, their eyes filled with love and excitement for the journey they have embarked upon together. The candid moments captured in these photographs truly reflect the essence of their special day, evoking a sense of warmth and joy.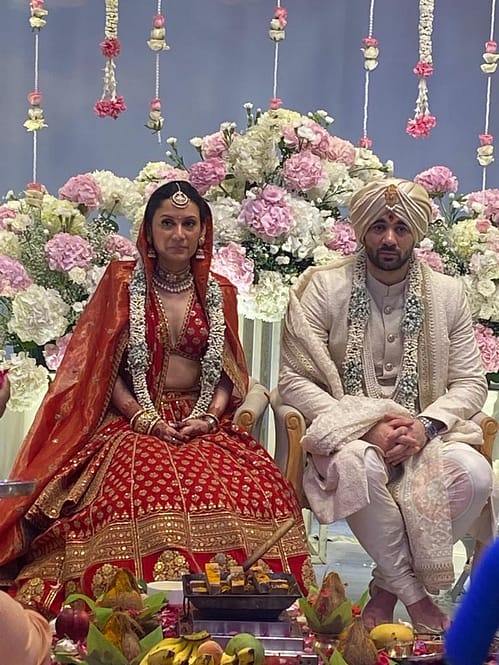 Colleagues from the film fraternity expressed their joy and congratulated the couple on this new chapter in their lives.
Karan Deol, who made his acting debut with the film 'Pal Pal Dil Ke Paas,' has won the hearts of audiences with his charm and talent. Drisha Acharya, on the other hand, is known for her accomplishments as a model and has been a source of inspiration for many young individuals. Together, they make a power couple that radiates love and positivity.
The wedding festivities were a blend of traditional customs and contemporary celebrations. From the colorful mehndi ceremony to the elegant sangeet night, every event was filled with laughter, music, and dance. The couple's loved ones showered them with heartfelt performances and well wishes, creating an atmosphere of love and togetherness.
With their talent, charisma, and the blessings of their well-wishers, Karan and Drisha are set to make a mark in the industry and create their own path.
The wedding of Karan Deol and Drisha Acharya is a celebration of love, unity, and the beauty of commitment. As the couple starts their married life, they are surrounded by the love and support of their families, friends, and well-wishers. Their wedding pictures have left everyone in awe, capturing the essence of their special day and radiating happiness.
We congratulate Karan Deol and Drisha Acharya on their beautiful wedding and wish them a lifetime of love, happiness, and togetherness. May their journey be filled with unforgettable moments and endless blessings as they begin this new chapter in their lives.