Rashmika Mandanna Stuns in Pink Chikankari Kurta at Mumbai Airport
Rashmika Mandanna, the popular South Indian actress, was recently spotted at the Mumbai airport in a stunning pink chikankari kurta, exuding traditional chic vibes. The actress, known for her impeccable style, once again turned heads with her fashion choice.
As she stepped out of the airport, Rashmika looked radiant and elegant in her ethnic ensemble. The pink chikankari kurta featured intricate embroidery work, adding a touch of grace to her attire. She paired it with matching straight-cut pants, creating a cohesive and well-balanced look.
Completing her outfit, Rashmika opted for minimalistic yet stylish accessories. She wore silver jhumkas and a delicate silver bracelet, which complemented the overall aesthetic of her ensemble. Her choice of accessories highlighted her attention to detail and ability to effortlessly enhance her look.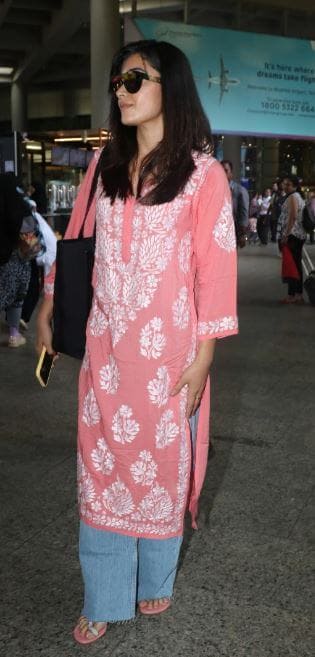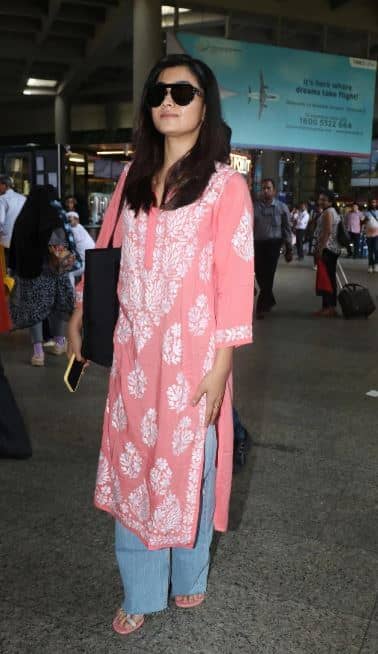 With her hair left open in loose waves, Rashmika embraced a natural and effortless hairstyle that perfectly complemented her traditional attire. Her radiant smile and glowing complexion added to her overall charm and elegance.
It is not surprising to see Rashmika making a fashion statement wherever she goes. Known for her impeccable style choices, she has established herself as a trendsetter in the industry. Whether it's on the red carpet or during casual outings, the actress always manages to leave a lasting impression with her sartorial choices.
Rashmika Mandanna, who has been making waves in the South Indian film industry with her versatile performances, has also been gaining attention for her fashion sense. Her ability to effortlessly carry off both traditional and contemporary looks has garnered her a massive fan following.
The actress, who has starred in blockbuster films such as "Geetha Govindam" and "Dear Comrade," has quickly become a style icon for many. Her fashion choices not only inspire her fans but also set trends in the industry.
Rashmika Mandanna's recent airport look showcases her ability to effortlessly blend traditional elements with contemporary fashion. Her chic pink chikankari kurta not only reflects her personal style but also celebrates the rich heritage of Indian craftsmanship.
As Rashmika continues to captivate the hearts of audiences with her on-screen performances, her impeccable fashion choices further solidify her status as a true style icon. Fans eagerly await her upcoming projects, both for her acting prowess and her impeccable sense of style.
In a world where fashion is constantly evolving, Rashmika Mandanna's ability to stay true to her personal style while experimenting with new trends is commendable. Her recent airport look is yet another example of her effortless fashion sense and her ability to make a statement wherever she goes.
As she continues to make waves in the film industry, Rashmika Mandanna's fashion choices will undoubtedly continue to inspire and influence her fans and fashion enthusiasts alike.